The year of 2018 has been nothing short of monumental for the world of sneakers.
The rejuvenation of Nike.
The mass production of Yeezys.
The popularity of dad shoes. 
However, amidst all these hot headlines, there has been one underlying topic that very few have paid attention to. 
The rise of females in the sneaker community.
Never before have we've seen the streets of Sydney and Melbourne, in particular, flooded with females exchanging their heels for soles. 
And it's not what they wear. It's how they wear it; with confidence and pride. A few years ago, these were the females who would feel out of a place in a community who deemed sneakers only fit for guys to rock.
But now, with females openly expressing their unique styles across all platforms like Instagram and Tumblr, there is no denying that females are cementing their place in the sneaker community.

How Did We Get Here?
Before we discuss what has been a groundbreaking movement, let's take a look at how 2018 has taken us to where we are now.
Jordan "Season Of Her"
It all started back in February with Jordan Brand unveiling their brand new women's collection of sneakers. Featuring a range of refined Air Jordan 1s as well as a Air Jordan 12, the "Season of Her" line showcased pastel tones with a mix of satin fabrics and suede. 
Source: Finishline
Air Jordan 1 Rebel 'Top 3'
Following the Jordan "Season of Her", the brand continued their shoutout to women in the sneaker community by releasing an unconventional Jordan 1 silhouette in a  "Top 3" colour combination. Featuring an asymmetrical lacing system with a midfoot zipper, the shoe had a strong appeal to females in the sneaker market.
OFF-WHITE x Nike "Queen"
On the back of the Jordan releases earlier in the year, Virgil Abloh decided to honour the greatness of Serena Williams and all women alike by releasing newly-designed iterations of the Air Max 97 and Blazer Mid SW.
Source: HYPEBEAST 
To further his support for heroines in the world, he then sent out pairs to the likes of Beyoncé, Michelle Obama, Naomi Campbell, Anna Wintour, and Oprah Winfrey.
Aleali May x Air Jordan 1 "Viotech"
Just when we thought 2018 has been a massive year for females in the sneaker community, Jordan Brand decided to surprise us with a second Aleali May collaboration.
Spotted back in 2016 by Aleali May, the shoes dubbed, "Viotech" due to its similar colour scheme as the Nike SB Dunk Low from 2013. Unlike the previous works by Jordan Brand mentioned above, the sneaker sports a very unique combination of vibrant colour blocks. Challenging the norms of typical female sneakers, the shoe is nothing short of bold and funky.
And to make things even better, the quality has been reviewed to be quite premium with the shoe featuring premium cowhide laces, a luxurious leather lining, and diamond-quilted leather insoles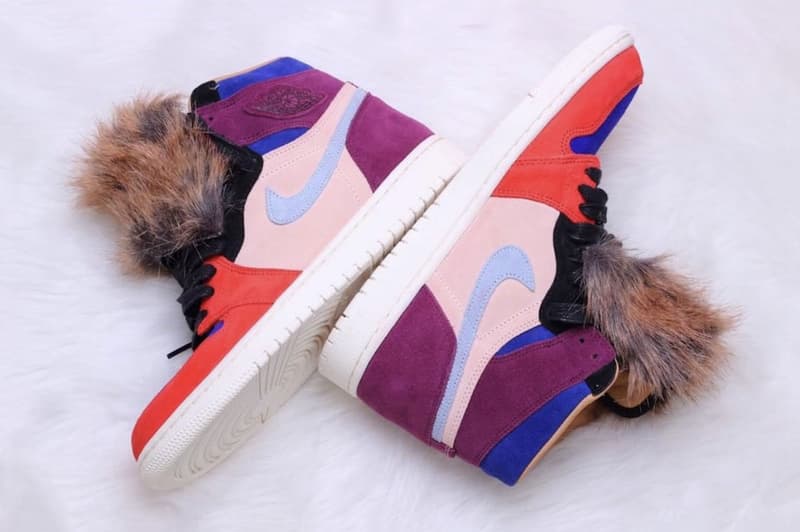 Source: HYPEBEAST
The Pinnacle
Just a few months ago, Jordan Brand announced their very first collaboration with fashion and lifestyle magazine, Vogue.
And like the previous designs, it was well received.
The collaboration features two shoes - the Air Jordan 1 High Zip AWOK and Air Jordan 3 SE AWOK.
AWOK stands for "Anna Wintour Okay" - a nod to Anna Wintour writes when she gives her approval for editorial or creative.
Accented by a bold metallic zipper, the Air Jordan 1 boasts a clean red and sail colourway with an "Edited by Vogue" Nike Air tag and the AWOK signature on the sole and tongue.
Including an "Edited by Vogue" Nike Air tag and the AWOK signature on the back heal, the Air Jordan 3 is inspired by Wintour's signature suits and sunglasses which sees it featuring a tweedy, metallic upper.
Yeah, but who is Anna Wintour?
If you know women's fashion, you would know that Anna Wintour is a household name.
For those who don't know, Anna Wintour is the editor-in-chef of the US Vogue Magazine - the most successful fashion magazine in the world.
Holding a net worth of $35 million, she is nothing but a feminine force.
IHer nickname is 'Nuclear Wintour' and earlier in the year she made headlines for refusing to take off her sunglasses despite sitting next to the Queen during a London Fashion Week show - a reflection of her demanding personality. It is also said that Miranda Priestly, the main character in "The Devil Wears Prada" is actually based on Anna Wintour.
With regards to the world of fashion, she is said to have the power to make or break a fashion designer after bringing the world's attention to the likes of Alexander McQueen and John Galliano (head designer at Givenchy and Dior).
That being said, is she what female sneakerheads need?
Yes. For two main reasons.
This collaboration is almost an exact mirror of what the Off-White x Nike collaboration means to guys. By closing the gap between streetwear and high fashion, the Jordan x Vogue collaboration legitimises how sneaker culture has become embedded into the lives of women. That being said, we can most expect future collaborations with not only high profile females but also with female favourite fashion brands. And as sneakers become recognised as more than just streetwear for females, doors for creative direction to be lead by females will be opened.
And second, the quality on both sneakers are amazing. Whether it may be the soft leather or the metallic zipper, the qualities of these shoes are an indication that brands are ready to give the same respect to female sneakers as their male counterparts.
The Unsolved Blemish
Whilst these sneakers are great in helping females cement their place in the sneaker community, there is still one small void left unfilled...
What is this void we speak of?  
Females are simply not getting what the guys have.
They just want to be able to rock the same silhouettes and the same colourways that are crafted in the same quality. 
More often than not, we get countless messages from females asking if we're getting more bae sizes in shoes that are notably popular among men.
There's been a track record of brands such as Nike and Jordan Brand neglecting females on the production of bae sizes in popular silhouettes. Take the Jordan 4 White Cement for example. Despite the big retro release in 2016, many were anticipating for women to finally. Unfortunately, there were none and as per usual, women who wanted this iconic sneaker had to settle for grade school sizes and disappointment.
Or even better, the Jordan 1 Retro High Rust Pink (the shoe has a resell value of around $3,000 btw).
Looking at the colourway, you would assume that this is the perfect shoe for a female sneaker enthusiast? Unfortunately, the smallest size made available was a Size 8 Mens...
And even when Jordan Brand takes the effort to honour bae sizes, they still get it wrong.
Take the Air Jordan 1 Shadows that released earlier this year as an example. Many female sneaker enthusiasts were upset with the quality of craftsmanship, believing that the tumble leather was nowhere as soft as the ones on the men's sizes.
And it's just not the leather, there are noticeable differences in the entire shape of the shoe with the men's heel being slightly taller and the grooves on the outsole being more pronounced than that of the bae sizes.
Word From The Streets
Speaking about the issues females are facing in the sneaker community, we decided to catch up with Yasi.
Yasi is one of the administrators for Facebook group, Sole Queens.
For those who aren't familiar with Sole Queens, here are some words from Yasi: 
It's a space I started for female sneakerheads a few years ago, after seeing the issues quite a lot a women were having in male heavy groups. We wanted a space where women could sell kicks, post their pick ups and other photos, have discussions about sneakers and fashion, ask for help looking for kicks and ask any questions they wanted (especially if you were new to it all) without feeling uncomfortable or made to feel silly.
I'd noticed that in a lot of groups, women were kind of in the background as they didn't always feel confident posting or asking questions in groups that were ,male dominated. Also finding sneakers for sale in your size could be a bit of a chore, so we created our own group to make all that a lot easier! 
Here are some things Yasi had to say about the female sneaker community!
On the whole sizing issues...
When it comes to sneaker brands and catering to female sneaker collectors, I don't think simply doing a few collabs with women, actually fixes the issue at hand. Obviously, it's really exciting to see more women getting a chance at creating for and collaborating with brands over these past few years, and it's also nice to see, as an example, Jordan Brand start releasing sneakers especially for females in female sizing. However I think what female collectors really want to see, is sizes for them in ALL collabs and special releases.
As it stands now, I'd say that 90% of popular sneaker releases (whether they be a popular general release, a limited edition sneaker or a collab) are in a mens size run. Which usually starts at a size 7 (womens 8.5) or 8 (womens 9.5), and if we are lucky, a mens 6 (womens 7.5). I'm one of the lucky ones, who can fit into a mens 7, but most of the women I know are a mens 5 to 6.5. So they either miss out completely, or if they are lucky enough that a release does come out in their size, the numbers allocated will be much smaller than the larger sizes.
On quality control issues...
A lot of the time (Jordan Brand and Nike are a good example of this), women are relegated to buying Grade School sizing. The issue with this is that some particular models of sneaker, actually have a slightly different design to the mens version (an example of this can be seen on the Jordan 4 or a pair of Nike TNs) but also doesn't have the same tech, the same materials or quality control. So you may get your size, but it doesn't quite measure up!!
When asked about some other ways brands can better cater to females...
The issue isn't that brands don't cater to the female market, because they do. However you'll probably notice that female only releases tend to be in colorways that brands consider to be 'traditionally feminine', so pink, purple, pastels, nudes and occasionally neutrals. The assumption that women only want to buy and wear these kinds of colours is extremely dated.
Moving Forward
The year of 2018 has been nothing short of amazing for female sneakerheads. More than ever, females have gained a force of recognition within the sneaker community. And it's not just through social media for looking cute in sneakers.
Thanks to prominent female figures leading the way and brands honouring the presence of females in the sneaker culture, countless collaborations have dropped this year.
However, whilst these collaborations opens doors for future opportunities within the female sneaker community, it is important to not let this overshadow the biggest problem concerning female sneakerheads.
It all starts at the bottom.
Just because brands are collaborating with high profile females, does not mean they are leveraging women in the sneaker industry.
Rather, they need to appeal to the masses and get the basics right. This means ensuring women get a full size run, as well refining the craftsmanship and construction quality of their shoes.
In saying that, the creative force of females that we saw in 2018 is only the beginning. With the new year fast approaching, expect the dynamic of sneaker culture that once saw males as the tastemakers to be fast changing.
By: Daniel PUSHAS