With sneakers being so in demand, it can be difficult to cop limited sneakers in Australia for retail or even a fair price.
Many of these limited edition new sneakers garner a lot of hype and can often cost a pretty penny.
At Pushas we understand your situation and have today compiled a list of some of the hottest dunk sneakers on Pushas under $300 AUD right now.
Ranging from clean white colourways to colourful camo print, our online store has a good variety of styles to suit everyone's wants. 
Championship Red
Starting off the list we have the Nike Dunk Low Championship Red colourway.
Since its release in September 2021, it has largely been overlooked but now is on the come up due to its simple design and affordable price.
The shoe features a University Red leather upper and white overlays that adds a unique look to the retro design.
Its simple reverse colour blocking brings homage to the 'Be True to Your School' series from 1985 and adds a heritage factor to the dunk.
For the price $250 AUD, you can't ask for a shoe with better value.
Credit: @sneakernews
Navy Dunk high
The next shoe on our list is the Nike Dunk High Midnight Navy colourway.
This shoe stands out on the list by being one of the only shoes to come in both men and grade school sizing.
Featuring the classic colour blocking, this shoe contrasts the white leather upper with championship navy overlays.
Currently, the shoe hovers around $200 and has seen a decent amount of popularity.
Due to the shoes' dark tones it is often compared to the Nike Dunk High Panda and Nike Dunk High Black White as a cheaper alternative.
For some, it is even a better option as it is not completely black and subtle in colour.
If you're looking for a cheap retro design this is definitely a shoe worth looking into.
Credit: @sneakernews
Triple White Colourway
How can anyone go wrong with a Triple White Dunk Low? Specifically made for women, this shoe has the clean retro dunk design in an all white colourway.
Whilst some may say it's boring and plain, we reckon it still has a lot to offer.
With air force 1s recently taking the storm for many people around the world, a clean all white dunk may offer as a replacement for those tired of the same old shoe.
Especially if you're looking for something simple and basic that you can wear casually, this shoe offers flexibility and can easily accomplish whatever an air force 1 can do.
With some pairs reaching as low as $200 don't miss out and scoop your pair today!
Credit: HouseofHeat
Lime Ice Womens
The Nike Dunk Low Lime Ice colourway brings a tropical energy to the iconic silhouette.
Being another women's exclusive, this shoe matches the soles and tongue tabs with a ghost colour scheme.
For those who are looking to add a splash of colour to their wardrobe this is the perfect shoe for you.
It's subtle, unique and can match many streetwear outfits.
With pairs sitting on pushas for around $250, it is definitely one of the more affordable options that you don't wanna miss out on!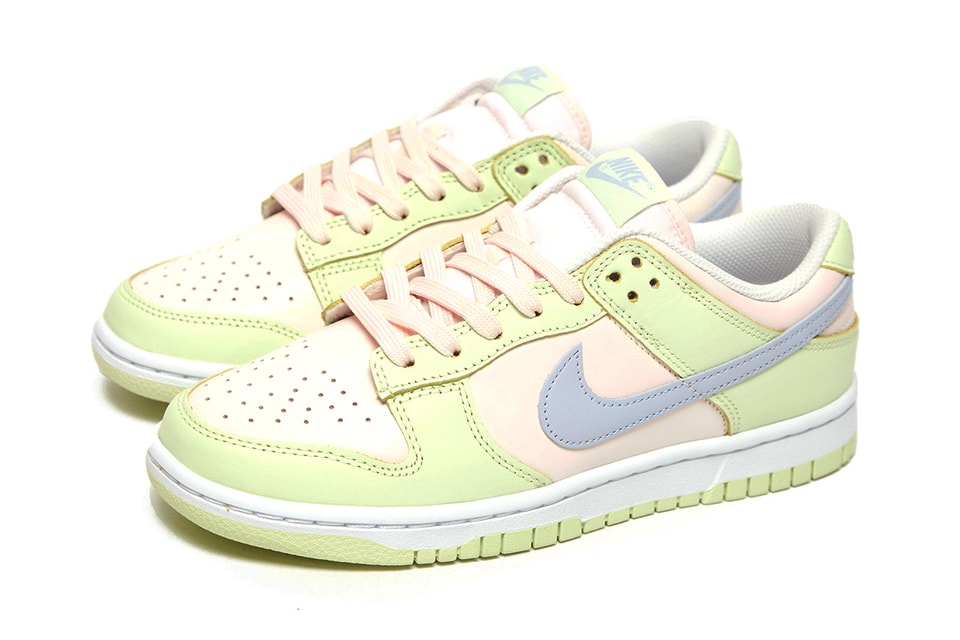 Credit: @Hypebeast
Sail Multi Camo
The Nike Dunk Low Sail Multi Camo colourway stands out on this list as one of the only shoes to feature more than one colour.
Sporting a clashing camouflage colour scheme, this shoe mixes both sail and green patterns to give a wild and contrasted look.
Both the left and right pair are mismatched in colour, with the patterns in different places on each pair.
As a shoe that's representing a camouflage pattern, it instead challenges the idea of being quiet and features loud colours.
Who would want this kind of shoe? Fun people of course.
Its contradictory style acts as a great statement piece and will definitely get tons of people asking questions about the shoe.
For the price of around $250 you can get a unique shoe that has a fun idea behind it and be a great conversation starter.
Credit: @Footwearnews
Crimson Tint High
Last but not least we have the Nike Dunk High Crimson Tint colorway.
This woman's exclusive contains the classic dunk high color blocking in a sail upper and crimson tint overlay.
The outsole and laces are in the same crimson colour adding the finishing touches to the retro design.
It is the perfect shoe for people who want to add a touch of the sail colour to their wardrobe and create a new look.
This sneaker is definitely the most underrated shoe on the list and will likely go up with time.
With most pairs being under $250, it is easily one of the most affordable shoes out there right now and can add variety to any sneakerheads collection.
Credit: @sneakernews
Written by Oliver Tan - Analyst