It's been agreed that the biggest trend of 2018 has been the rise of dad shoes. Whether it be the Yeezy 700s, Nike Air Monarchs or the Balenciaga Triple S; dad shoes have been flooding the scenes of streetwear. And rightfully so, they've exposed the sneaker community to a trend labelled as "gorpcore" which according to Vogue Magazine, is a "dash of athleticism and a whiny of the '90s" 
Despite its ugly aesthetics that confused many sneakerheads in the   community, the shoes provided the sneaker scene with a whole new dimension. It challenged the traditional norms of shoes being sleek and clean; whilst inspiring new street styles like flared pants and baggy tees.
However with 2018 almost over, the end of dad shoes is near.
Source: Unstablefragments
Early Signs
As demonstrated in the past with zipper pants and dad hats, social media trends come and go very fast. As soon as more influencers began wearing these dad shoes, many began wondering if this trend would lose credibility. And it started to show with mainstream and fast-fashion brands like Zara starting to create their own versions.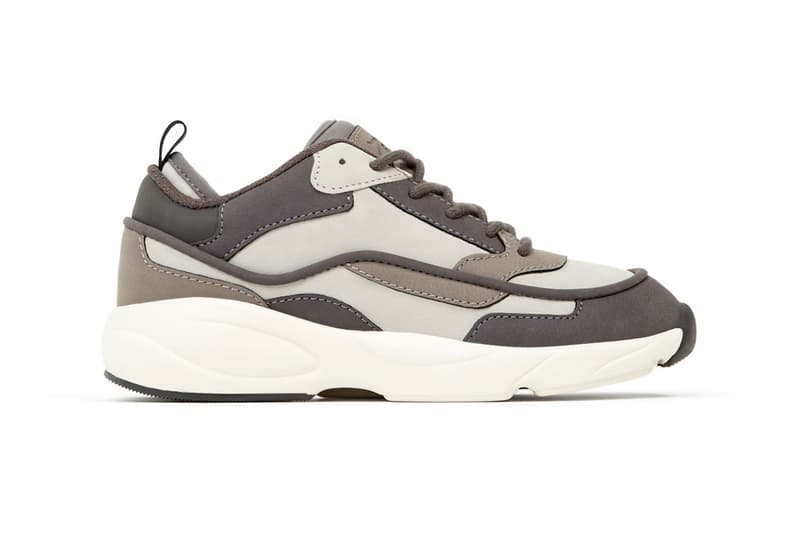 Source: Hypebeast
However, we remained optimistic and chose to believe that this trend was here to stay regardless of the critics. 
Hitting Rock Bottom
Whilst we discussed that the mass release of Yeezys would be well favoured, the recent release of the Yeezy 700 "Mauve" has shown otherwise.
Reported as the least successful shoe in the history of Yeezy sneakers, the shoe is a reflection of Kanye's poor creative choice and the fall of dad shoes.
Recently, Kanye West made a tweet about his decision to move away from political conversations and transfer his energy on being creative.
My eyes are now wide open and now realize I've been used to spread messages I don't believe in. I am distancing myself from politics and completely focusing on being creative !!!

— ye (@kanyewest) 30 October 2018
With Kanye tweeting this shortly after the release of his worst performing sneaker in the entire history of the Yeezy line, you cannot help but to question what exactly is going on.
Could this be indicating that the man himself is conceding that the Yeezy 700 "Mauve" was a failure? Or is it an concession that the Yeezy 500s and 700s have no hope in the future just like his predecessor 350s?
Nevertheless, regardless of how you want to interpret the tweet, it is hard to deny that these are worrying times for the Yeezy line. Hype wise, they're doing just fine. But in terms of longevity and innovation, the future seems quite clouded.
When looking at the 2018 Complexcon that was held recently in November, there was no feature of any dad shoe being worn or released. Rather shoes such as the Diamond Supply Co. x Nike SB Dunk Lows and the Atmos x Nike Air Force 1 "Cocoa Snake" made headlines.
Source: Sneaker News
What do we attribute this downfall to?
Some believe that these shoes are beginning to be overplayed with many hopping on the bandwagon.
And whilst this may be true to an extent, this isn't quite the case.
We believe that the dad shoes lacks one crucial element.
A timeless aesthetic. 
Sure they might have been a statement in 2018 but will they stand the test of time and be worthy enough to rank amongst the likes of the Air Jordan 1 or the Nike Air Max 97?
Probably not...
Put simply, these dad shoes lack a certain ingredient that sparks an impetus within the sneaker community.

Take a look at some of the other shoes released this year. 
Nike Air Max 1/97 Sean Wotherspoon
Whether it was the nice blend of pastel colours, the creative use of corduroy or the aesthetic hybrid of two classics in the Air Max 1 and 97, you just knew that the Sean Wotherspoons were unique. It was almost intuitive. And you didn't have to be the most knowledgeable sneaker enthusiast to feel this way. 
atmos x Nike "Animal Pack" 2.0
Same goes with the Air Max x Atmos Animal pack that dropped earlier this year. Despite its rather mass release, the shoe was still greatly appreciated for its unconventional use of pony hair that made fans respect atmos designer Hirofumi Kojima even more.
As radical as the shoes look, they were able to do the one thing Kojima wanted. And that was to espouse the power of the tiger and the giraffe and the speed of the zebra, leopard, and horse all into one shoe. In essence, these shoes are wearable art that stand the test of time. 
As for dad shoes?
Unfortunately, nothing seems to stand out.
Think of your reaction when you first saw images of the Yeezy 500.
Besides the chunky silhouette, what was it that caught your eye?
Did the shoe have anything amazing about them that made you believe this was going to be a guaranteed classic? 
Final Word
Whether it be the Yeezy 700 or the Balenciaga Triple S; dad shoes do not provide the sneaker community with enough excitement. There is no story behind it. No sense of craftsmanship. No standout features. 
It hurts for us to say this but these shoes were hyped up because they were controversial. They simply challenged the norms by being ugly.
Which is cool right? It's part of promoting avant-garde fashion - the act of pushing the boundaries of culture through innovative and experimental movements that reject the mainstream.
But to stand the test of time, it is crucial to be more than just controversial.
Controversy only lasts for so long. And since these shoes were just known for its controversy, they will remain in 2018.
By Daniel PUSHAS