It's been a while since we've seen a pair of Jordan 1s reselling for over $1000.
Yet here we are with the Union x Air Jordan 1 collection going for a resell of $1000. After a few years seeing Yeezys and the like dominate the resell market, it seems as though the pendulum has swung back to retro Jordans.
This return of retro Jordans and basketball sneakers alike coincides with the release of the Fear of God x Nike collection. As discussed, by drawing basketball as a source of inspiration for his collection, Lorenzo has brought back the credibility and respect to basketball as a force in sneaker culture.
Given the design of the Union x Air Jordan 1s, it is safe to say that these sneakers will continue the momentum initiated by Lorenzo. However, is this enough to warrant a $1000 resell price tag? Let's find out.
Source: solecollector
Who, What is Union?
Union is a menswear boutique store based in Los Angeles. Ever since opening its doors in Soho, New York back in 1989, the store has prided itself for being its customers the best curated selection of clothing.
Seen as a bridge that brings unique items under one roof, the store continues to hunt for creative designs within the United States as well as from various parts of the world such as Japan and the UK. What makes this store even more special is that they did this all before the likes of Barneys New York or Nordstrom came into the scene, before the rise of social media and e-commerce.
Currently owned and operated by Chris Gibbs, Union stays true to one concept: "buy brands that they will wear themselves and clothes that walk the line between fashion and function, avoiding the 'costumey' side of fashion by offering classics with a twist." Thanks to this vision, the store has built a reputation for breaking many new designers into the mainstream.
Source:
LATimes
What Makes These Sneakers Unique
We often hear designers or OG sneakerheads speak about the sentiments attached to Jordans. The kind of sentiment that take enthusiasts back to what sneakers once was. A time where basketball players were the Kanye. A time where sneakers were valued for its construction, uniqueness and not resell price or hype.
Yet it is quite rare for any of us to completely experience this feeling, let alone understand it.
Despite reading countless NBA stories, watching archived designer interviews with Tinker Hatfield or collecting game worn sneakers; most of us fall short of a complete nostalgic experience.
However, this collaboration changes all this with its intricate design inspirations.
Inspirations
Similar to how Lorenzo sourced his inspiration for his Fear of God x Nike collaboration, these shoes pay homage to the nostalgia of vintage NBA basketball. Unlike other Air Jordan 1s where the leather seems shiny and new, the Union x Air Jordan 1s sports a thicker leather, almost representative of the shoe having wear and tear to it.
The Air Jordan I  "Union" combines the top of the 1985 Air Jordan 1 "White / Natural Grey" with the bottom of the "Black Toe." Attempting to replicate the original feel of the 1985 Air Jordan 1, Gibbs implemented the following details onto the shoe -- nubuck Swoosh, tongue and ankle stitching, a yellowed midsole, exposed foam on the tongue and curling edges.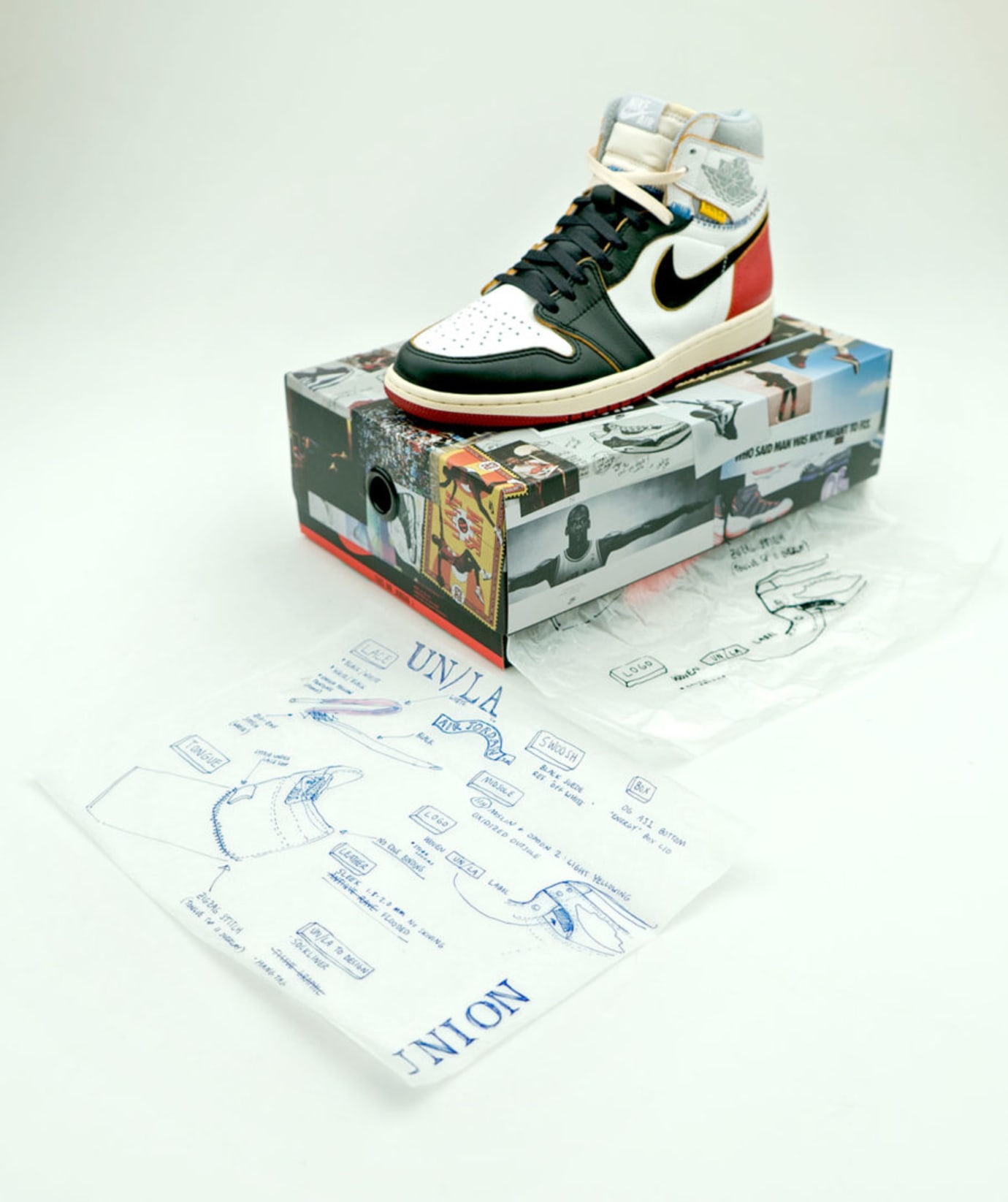 Source: solecollector
To further accentuate the nostalgia of the Air Jordan 1, an enlarged Wings logo has also been included as  homage to the special makeup model that MJ played in for a few games (which was later known to be the Air Jordan 1.5). With the stitching exposed, both the "Black Toe" and "Storm Blue" colourways are a testimony to DIY culture. This culture that was once prominent in the early days of sneaker culture saw enthusiasts piecing their shoes together with whatever that was available to them, after beating them up. According to Gibbs, he wanted to make them look as though some kid might have fixed and restitched the shoes throughout the years.
By diving deep into the sentiments, it's almost as though this is a nod by Webb to what sneaker culture once was. A time where people actually wore their sneakers. A time where sneakers had the power to make people believe they were the greatest on the basketball court.
"This design is meant to embody the feeling you get from the AJI. It's one of the all-time classic silhouettes that's going to continually span generations" - Chris gibbs, Owner of Union Los angeles
Extending upon this nostalgia, Gibbs states how the shoe's aesthetic was inspired by his tendency to wear Jordan gear that he finds at vintage markets. Enthralled by the look of gear that has been "patinaed or weathered in", Gibbs has a strong passion for hunting rare items. And it sounds about right, given how Union has built a reputation for finding unique pieces of fashion from all around the world - regardless of how recognisable that brand or designer is.
Source: HYPEBEAST
How These Will Influence Sneaker Culture in 2019
Bringing back respect to basketball
As mentioned previously, we are anticipating for basketball as a lifestyle to be recognised the same way it once was. Part of this recognition will see the return of retro Jordans as a staple item in every sneaker collection as well as the rising popularity of basketball sneakers.
Following Lorenzo's Fear of God x Nike collection, these shoes will continue to pay homage to basketball.
And it's not just Michael Jordan the shoe is paying homage. It's his era. The era that saw NBA stars such as Charles Barkley and Dominique Wilkins revered as gods by both kids and adults. The era that saw basketball as a lifestyle. A lifestyle that was once deemed as the coolest thing to be good at. A lifestyle that was bridged many to a world of dreams and ambitions.
This collaboration will inspire both kids and adults within the sneaker community to appreciate how basketball has helped shape today's sneaker culture. Such tribute will add fuel to Lorenzo's movement in making basketball cool again as retro Jordans and basketball sneakers regain the status it once had.
Source: thesource
Vintage vibes
The Union x Air Jordan 1 is heavily inspired by Webb's nostalgic sentiments of finding rare vintage pieces in flea markets. Provided the success of the Nike Air Max 1/97 'Sean Wotherspoon' in 2018,  Sean Wotherspoon has been etched as an iconic figure in sneaker folklore. Part of this has seen the emergence of his passion for flea markets and vintage streetwear -- mostly evident in his work with the GUESS Farmers Market and Round Two.
So with Wotherspoon already bringing vintage on the scene, there is no doubt that Webb's nostalgic inspiration will make vintage wear even more appealing to the mainstream.
Given how this collaboration will see the return of retro Air Jordans, it may even be safe to believe that other retro Nike and Adidas sneakers will be a big thing in 2019.
Check out the cool teaser by Union as they set up a fake booth at the Rose Bowl flea market. 
Appreciating craftsmanship (and not the hype)
As respect for basketball in sneaker culture heightens, attitudes towards sneakers will also change.
Whilst it may be too harsh to say that the sneaker culture has been tarnished, it is hard to deny that the appreciation for sneakers is obscure.
We've seen it on countless occasions over the past few years with the likes of Yeezys. Whether it was the 350s or the 500s, the value of these shoes were largely determined by three things. The attachment of Kanye's branding, the hype around them and the limited supply. It was very rare for you to hear how keen people were for the BOOST technology or the Primeknit upper on the Yeezys.
However, the Union x Air Jordan 1 changes this. The fact that it took nine attempts to successfully re-create the fuzzy weathered heel and collar of an original 1985 Air Jordan 1 to espouse Webb's nostalgic inspirations says a lot.
Rather than attributing a sneaker's value to the hype around it or its exclusivity, individuals will be encouraged to appreciate the craftsmanship of the shoe instead.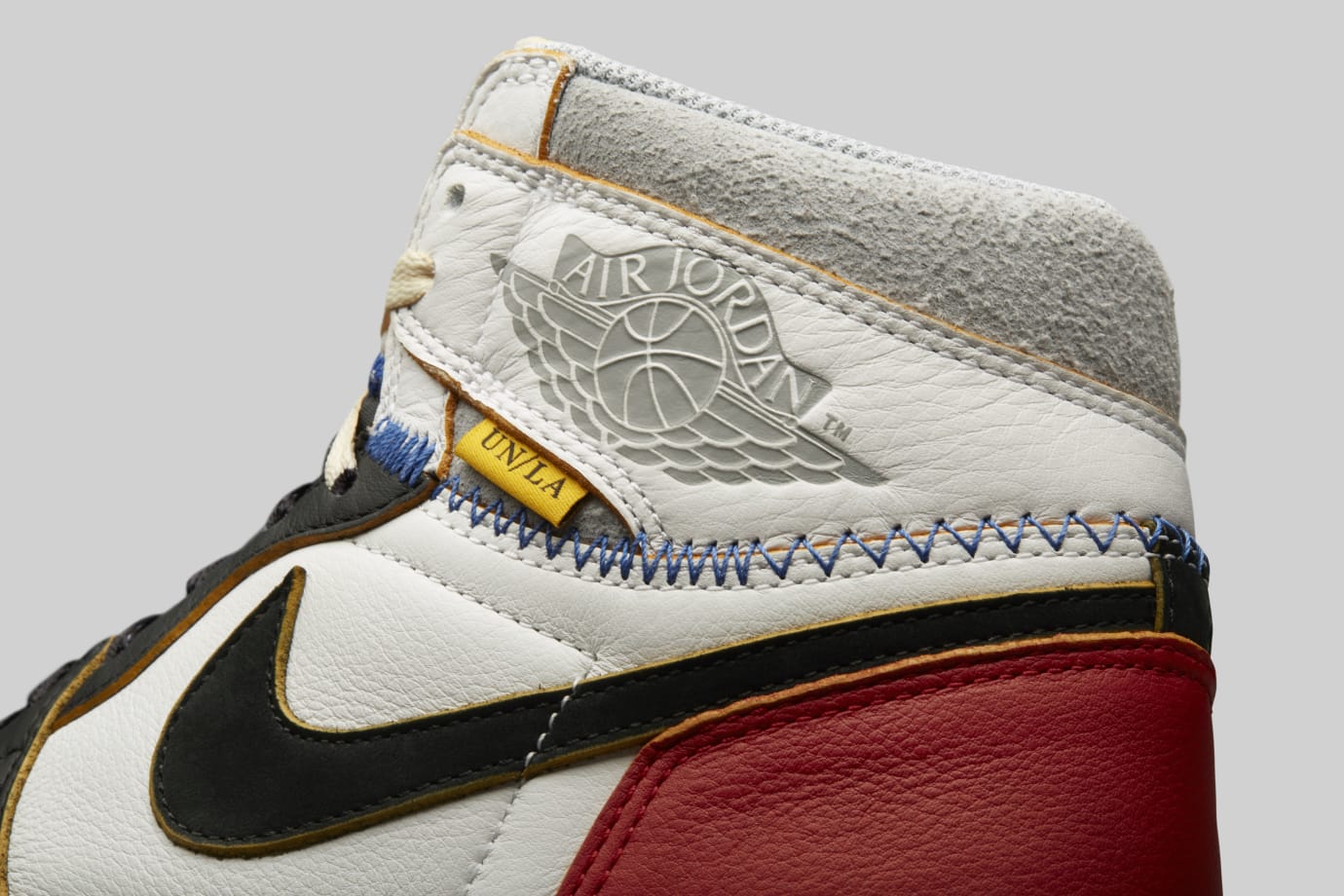 Source: solecollector
By Daniel PUSHAS