After numerous release delays, the wait has come to an end.
The sacai x Nike LDWaffle and Blazer Mids finally have a release date.
With resale prices already being listed around $800-$1000, the hype is undeniably real.
Whilst the sneakers have gained a lot of attention since debuting at Paris Fashion Week in 2018, there are many questions surrounding whether the sneakers are overrated.
For the most part, the sneakers are undeniably special. Featuring stacked midsoles and double tongues, the silhouette is something the sneaker community has not seen before. Striking in aesthetic yet nostalgic in history, the collaboration merges the two worlds of past and future.
Yet despite the shoes making headlines, some are still asking why on earth are these shoes reselling for up to $1000.
Others are even questioning who Sacai is.
Who is Sacai?
Launched in 1999, Sacai is a Japanese luxury brand started and owned by Chitose Abe. Drawing on Chitose Abe's middle name "Sakai", the label is renowned for its technical prowess and the merging of two dichotomous pieces of clothing into one.
Describing her clothes as "the multidimensionality of modern women", the Japanese designer places emphasis on making Sacai a feminine yet bold fashion label.
She reflects such notion by claiming that it was her goal to always keep her clothes wearable whilst making them beautiful and complicated.
Having spent eight years working for Comme des Garçons and Junya Watanabe (designer for the likes of Comme des Garçons, Carhartt, Lacoste); Abe understands the business side of things.
Choosing to build the brand slowly and organically over the last 20 years, Sacai is not your typical fashion house.
Thriving on exclusivity, the Japanese label is known to source their own fabrics and reworking common fabrics and patterns in innovative ways. With an estimated $25 million in annual revenue and available at over 90 stockists, Sacai is still owned by Chitose.
And it's this that makes the brand unique. Unlike many other fashion labels, Sacai is still 100% owned by Abe who believes that her creative freedom remains imperative.
What's interesting about the brand is that whilst it is a Japanese brand, it does not restrict its design by Japanese heritage. The brand believes that incorporating Japanese elements is not a necessity. Rather it is the work ethic and their discipline in product design that represents elements of Japan.
What Makes These Sneakers Special?
When asked about whether her work is subversive, Chitose Abe comments that she tries to not make her designs not too conceptual. Rather, she wants her pieces to be wearable. With experience in working with fabric particularly during her time at Comme des Garçons as a pattern-cutter, the Japanese designer pays a lot of attention to detail.
As a kid, she would get her mum to taper her Bellbottoms so she could look differently in elementary school. And when her style was being copied by other students, she would want to leave school and head home.
In regards to her work with Nike, Abe states that the key is to keep things real and intimate... to make it more personal. And that is exactly what she's done with the LDV Waffles and Blazers.
Her desire to stand out has been reproduced through the sacai x Nike sneakers. Sporting an elongated sole, double Swoosh and a transparent upper mesh, the LDV Waffles have no trouble standing out. The same goes with the Blazers which features a double sole and Swoosh.
The "betrayal" elements of this exercise include doubled elements, like the Swoosh and tongue, as well as elongated midsoles. Abe delivers "stability" through the familiar retro colour scheme.
Stability is adhering to the Sacai style, and betrayal is an element of surprise.
The shoes are eccentric yet fashionable. They carry a synergy between between functionality and uniqueness that embody the brand of Sacai.
"Functionality is key. I like to have fun with ideas, so naturally, pieces can have an artistic edge, but at the end of the day, they're not art pieces. They may look like art pieces in a fashion show, but they have to be wearable. This synergy creates something new."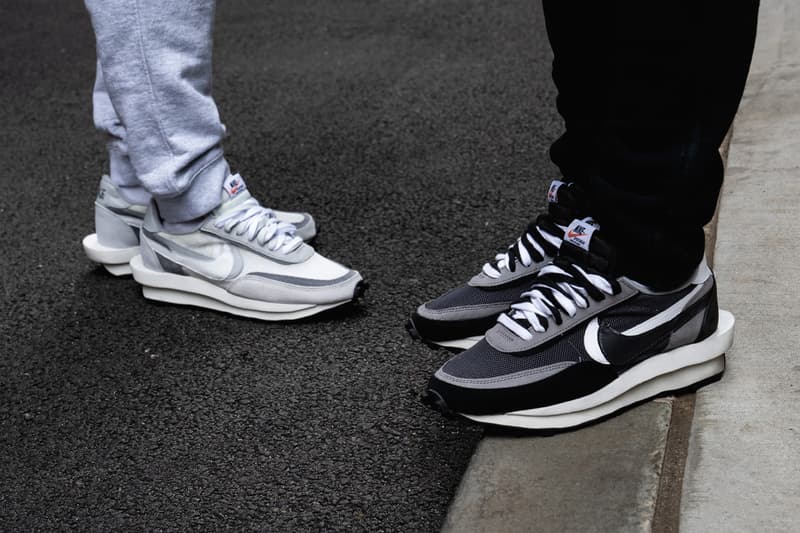 Such fashionable sentiment is augmented by the daring yet perplexing double lace design. Reminding us of the Balenciaga Tracks which retails for around $1,300, it's a nice touch of luxury designer.
And it's why we love these sneakers. The subtle details are nothing but classy.
The sneaker doesn't try to do too much and yet it still makes a loud statement.
Paying homage to two of Nike's most classic silhouettes in the Waffle Trainer (Nike's first pair of running shoes) and the Blazer, the collaboration continues a trend we've been seeing from Nike.
The trend of merging the new and the old.
The trend of remixing classics with a zesty punch of "different".
We saw it with the Jordan 1 Unions and of course, the OFF-WHITE x Nike collaboration.
It's a credit to where Nike is heading. Despite being ridiculed for some of their questionable designs, the brand is giving the sneaker community something they haven't had in a while.
And that is change.
Too often, we hear sneaker enthusiasts claim that they're tired of seeing Yeezys on the street or that OFF-WHITE x Nike are.
Well, that all ends with the sacai x Nike LDWaffle and Blazer Mids.
Representing The Females of Sneaker Culture
Coming off the back of 2018 - a year that celebrated women's role in sneaker culture, these sneakers are a bold statement.
There's no arguing against that.
However, it's not just the silhouette or the colours that make the sneakers bold. It's something much deeper than that.
Abe is an embodiment of female credibility within the sneaker scene. Similar to the likes of Aleali May and Anna Wintour, Abe always had a passion for fashion -- wanting to be a designer at the age of 10.
No matter how conceptual the clothing might be, it always goes back to "Would I wear this?" If the answer is no, then I won't go forward with the design.
From having her mum make clothes for her to designing clothes for Licca dolls (Japanese version of Barbie), she has always embraced the importance of being original. Despite working under Rei Kawakubo and Junya Watanabe at Commes des Garçons, Abe has prided herself for being an independent thinker. One who wanted to be her own woman.
To bring the spotlight to her heroics, Abe was raised from humble beginnings. Despite wanting to study design at Bunka Fashion College (the Japanese design school that produced names such as Yohji Yamamoto, Junya Watanabe, Kenzō Takada and Nigo); Abe lived in the extreme countryside of Japan and was unable to move to Tokyo.
During the early stages of Sacai, she wanted her brand to make people think, "Oh, there's a different approach!". Rather than rushing to get her line to Paris Fashion Week, Abe focused on breaking away from preconceived notions in fashion. From designing hybrid pieces to rejecting the need to be like other designer labels, Abe has always been about rejecting tradition.
And that is exactly what she's done with the sneaker scene.
In designing the shoes, she didn't establish any barriers. Sure she's a female designer but rather than using her creative talent and her Sacai label to create a tacky feminine shoe, Abe focused purely on creating extravagant and wearable sneakers.
As discussed previously, females want more than just some cute sneaker with pink accents. They wanted what the males had in their sizes.
And through the sacai x Nike sneakers, Abe responded to what females want.
What makes it even better is that despite the sneakers being designed by a female, the male sneaker enthusiasts have been all over the collaboration.
That in itself has empowered females more than any other shoe ever has.
It's revolutionary. Perhaps unprecedented in sneaker culture.
A female designer creating waves for both women AND men.
"I've stopped worrying about what will sell and just go with what I enjoy making, what's authentic"
The Future of Sneaker Collaborations
With the end of OFF-WHITE x Nike, many have been speculating whether sneaker collaborations are hot anymore.
Recent times have been telling of this...
Earlier this year, Nike dropped their Air Max Tailwind 4s in collaboration with Supreme. Many thought this was going to be a massive hit. However, they were wrong as the shoes surprisingly sat on Nike.com for an extended period of time. And there's nothing wrong with Supreme x Nike Air Max's. In 2016, we saw the Supreme x Air Max 98 "Snakeskin" which retailed for around $800-$1000.
And it's not just Nike sneaker collaborations that had high resell values.
Adidas had them too.
Take yourself back to July 2016 when BAPE worked on the Adidas NMD. At the time, they went for around $1,000. Or even the adidas Ultra Boost Uncaged Solebox that went for $800.
Yet fast forward three years and these sacai x Nike collaborations have sent us back to square one.
So why's this the case?
Well to us, the collaboration upholds what sacai is about. It stays true to sacai's brand - a subtle yet unique label marked by the culmination of sleek silhouettes and challenging practices of reassembling fashion pieces.
We look at OFF-WHITE x Nike and how that succeeded. Virgil stuck to the originality of OFF-WHITE and incorporated industrial features - even through subtle (yet bold) zipties.
As long brands stay on par with what they're about and somehow co-design with one another, sneaker collaborations will have their place in the sneaker community.
Final Word
With the anticipation that was built over the span of a year finally coming to an end, sneaker enthusiasts can have a new shoe to appreciate.
And for good reasons too.
The sneakers possess a never-before-seen silhouette with its daring double lace, double tongue and elongated sole combination.
They're contributing to Nike's creative arsenal.
They're keeping the future of sneaker collaborations alive.
They've continued to put females on the sneaker map.
With all this said, this sacai x Nike collaboration is set to be a classic.
Be sure to keep your an eye out for when these drop on pushas.com! Limited quantities will be available.
By Daniel PUSHAS