Jordan 1 Lows have seen a massive resurgence in 2021.
With how saturated nike dunk lows are, people have been looking for simpler low cut alternatives that provide a different perspective.
This year there have been many interesting colourways of Jordan 1 Lows such as the pollens, UNCs and bred toes.
Currently the brand new Mocha Jordan 1 Low is on the rise and potentially being one of the best lows this year.
Today however, we'll be talking in particular about the Jordan 1 Low Starfish colourway and what makes it so special.
Having adopted a more original cut than most lows, this sneaker has sparked a lot of interest this year from collectors and investors alike.
Whether you're a reseller or a casual collector, this article will help you understand all about the shoe and whether it is the right one for you.
Overview
The Air Jordan 1 Low OG Starfish released on the 26th of August for a retail price of $190 AUD.
Available at most mid tier sneaker boutiques, this shoe was one of the few exceptions this year to release in a men's and women sizing.
Paying homage to the shattered backboard orange colorway, this shoe represents the similar colour uniform Michael Jordan wore when he famously broke the backboard in a 1985 exhibition game in Italy.
Featuring beautiful smooth white leather overlays and a crisp Nike air swoosh, this shoe brings back the Jordan 1 Low in an original colour and reigniting old sneakerheads desire for a retro appeal.
The shoe comes with black laces, has great cushioning and features the Air Jordan wings logo on the heel.
Credit: @SeanGo
Analysis
While not similar in appearance, the shoe that makes the most sense for a comparison is the Jordan 1 Low in the Neutral Grey colourway.
These two sneakers are similar in their demand, price point and size run.
From the onset we can see that historically Jordan 1 Lows in the women's sizes don't have much movement and thus don't warrant an investment.
Whilst women's and grade school pairs rose about $20 in the past 5 months, men' s pairs have been showing much more potential rising $50 trending upwards.
With similar color blocking to the Jordan 1 Low Chicago and of course the shattered backboard 1, there will be a lot of people turning to the starfish lows as an affordable alternative.
As of right now prices have mainly seen a slow downward trend with most pairs going between $280 to $300 AUD.
I expect these prices to not go down much further.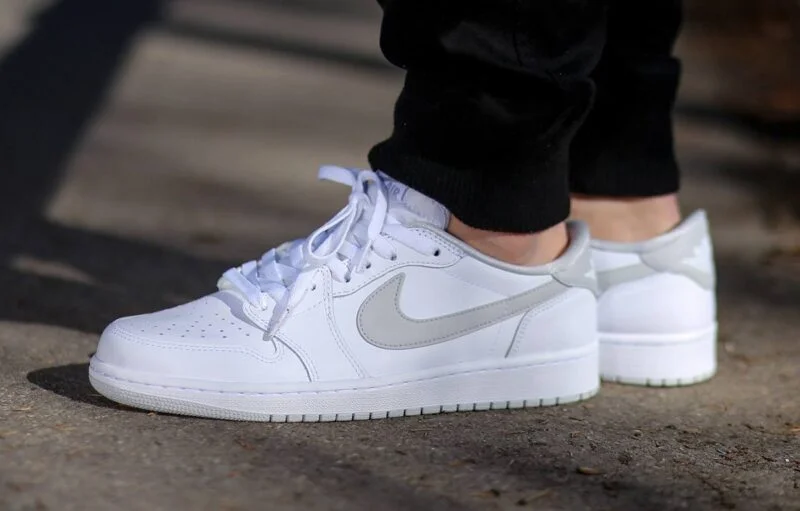 Credit:@Pinterest
Buy, Sell or Hold?
For both collectors and investors alike, this is the best time to buy into the shoe.
It's a great wearable colourway with significant historical references.
We have seen similar shoes explode in price in the past and it would be a shame to miss out.
With the release date being lost past and all stores already done releasing pairs, there's only room to go up.
I see the Jordan 1 Low Starfish reaching $400 in 6 months and potentially $500 in a year with a bigger focus on men sizes.
Final Thoughts
The Air Jordan 1 Low Starfish is a great long term investment and an awesome shoe overall.
This shoe is here to stay and will definitely only gain popularity over time.
You can purchase the Jordan 1 Low Starfish here.
Written by Oliver Tan - Analyst